Call for Abstracts
Abstracts can be submitted through the Easychair system, at the link:
https://easychair.org/conferences/?conf=delve2017
ABSTRACT SUBMISSION IS NOW CLOSED
Submissions will be evaluated and selected by the Program Committee members, based on the adherence with the theme of the satellite and the validity of the work. Once the selection process is complete, the authors of the accepted abstracts will be notified by e-mail, no later than July 8th.
In addition, authors of accepted contributions are expected to register through the CCS'17 registration page:
http://ccs17.unam.mx/registration/new
Participants can also purchase tickets for the Gala Dinner which will take place on September 20th using the same account used to pay the
registration
https://tienda.fciencias.unam.mx/en/home/225-ccs17-gala-dinner-174.html
. Places are limited!
Participants can find accommodation options with preferential rates at
http://ccs17.unam.mx/accommodation
As for the academic program, please consider attending the 4th CCS Warmup on September 15-17
http://yrncs.cssociety.org/warm-up/
Registration will begin on Sunday, September 17th at 3pm. At this time, posters (also from satellites) can be installed. They will be up until Friday. Arrive early to choose the best spots. The Welcome Reception will begin at 6pm, but you should have registered before being able to enjoy the sunset, drinks, and canapés. The Young Researchers Network on Complex Systems will also organize a job fair during the cocktail.
You can find more information about satellites at
http://ccs17.unam.mx/satellites
Stay until the end! The conference will close on September 22nd with a panel on the past, present, and future of complex systems, including Yamir Moreno, Maxi San Miguel, and Albert-Lázló Barabási (TBC).
Invite your colleagues and students! Call for Late Breaking Abstracts still open, deadline is August 18th:
http://ccs17.unam.mx/calls#call-for-abstracts
Finally, follow the conference on social networks
https://twitter.com/ccs17mx
and
https://facebook.com/ccs17mx
and share using the official hashtag #CCS17.
Powered by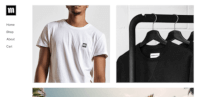 Create your own unique website with customizable templates.